Our countryside house is located in the heart of Catalunya (90km from Barcelona) in the small region of Conca de BarberÓ which belongs to the province of Tarragona (50km from Tarragona).
The region borders the province of Alt Camp, Baix Camp and Priorat (belonging to the area of Tarragona), the province of Garrigues, Segarra and l'Urgell (belonging to the area of Lleida) and Anoia (belonging to the area of Barcelona).
Our region embraces a historic background dated as of XII century. The surrounding towns (Montblanc and Santa Coloma de Queralt) are medieval towns with historic castles, city walls and ancient Jewish neighborhoods. Moreover, there are several monasteries, monuments and museums from the order of Cister.
Turisme Rural Can Gasol
C/ Major, 8
43429 Guialmons
Tarragona (Catalunya)
977 881 513696143822
E-mail: cangasol@netcom2.com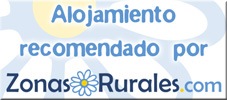 Stay in Tarragona - Inside
(Catalu˝a): property indexed on Homelidays.com
VÝdeo de la casa